Search engines play a vital role in connecting potential customers with relevant businesses. No wonder all of us today rely on search engines to find new products, learn about existing products/services, and get any information under the sky.
Gone are those days when people used search engines to learn about the features of expensive gadgets and electronics goods. With the internet accessible to everyone in this digital world, people use it for their daily needs.
With smartphones and high-speed internet, people often perform local searches more these days. For instance, they search for nearby Mexican restaurants, movie theaters after hopping into the car on the go. Thus, location plays a crucial part as people do searches related to their neighborhood.
Of course, people will want to find a Mexican restaurant in their city and not elsewhere. As a user-friendly search engine, Google prioritizes what the user searches for. Thus, Google gives weightage to proximity rather than traditional ranking factors like backlinks now.
Google local pack supports local search marketing by listing the top local pages with a map and dropped pins. Of course, those pages listed atop will get more clicks and more customers than other links that appear lower down the page. Also, a study reveals that around 90% of people who search for local businesses visit the business on the same day.
So, how to get your client business listed atop the SERP? All you have to do is optimize their business for local search. That is nothing but enhancing local SEO.
You can get started with improvising local SEO by performing an SEO audit for your client's website. It will help you identify the current status of their website and allow you to come up with some productive techniques that will help with the rankings.
Read on to know how to perform a website audit in 30 minutes. Let's get started.
How to Make a Website Audit in 30 minutes?
For a website audit, you will need:
The business name of your client
The locality where the business is situated and
Website of the business
With those details ready now, follow the below steps for an efficient website audit:
Keyword Check:
Start searching the top terms associated with the prospect's business in their target city. With the results, you will know their current rankings and position in the SERPs and whether it is in the local pack. If the search results are organic, the business is ideal for an organic SEO campaign rather than a local SEO campaign.
How to check that optimally? You can use an incognito browser setting the browser location to the business city. That way, you can see more accurate rankings and not biased results based on your browsing history or Google+ account.
For your convenience, let's illustrate the procedure in simple steps:
Search the relevant terms associated with the business.
Check if there are any local results.
Look through the first five pages of the business and observe its rankings.
Check whether the website runs any AdWords campaigns.
Right at this stage, you can evaluate if there is any local intent for the business. Though organic campaigns will benefit from local SEO, both campaigns focus on different things. Thus, the execution will also vary. So, there is no point in continuing the website audit if the prospect is not the perfect fit for your services.
Check Google My Business(GMB) Page for that Business:
Search for the business name and city in Google to check if their Google My Business page link shows up in the results. If it is not displayed, you need to check for specific aspects.
For instance, many factors come into play like no listing, old-style listing, or Google not associating the website with their listing or even a penalty preventing their listing from getting listed. Else, you can ask the client to create a GMB profile for their business.
Check the following during your GMB page assessment:
Is their business description concise and easy to understand? Is it engaging enough to attract the users to click on their site to learn more about the business?
Is their description stuffed with keywords? In that case, Google will consider that as spam. Though the description does not come under the ranking algorithm, Google's spam filter examines it. So, make sure it is engaging.
Check whether the primary category reflects their business; For instance, carpet vs home decor.
Examine whether their business comes under many categories. If so, there is a possibility that the category strength is diluted across many fields. Try to remove some of the less significant categories and include the ones that support their service.
Check for social proof. Does the business have any social photos and posts?
Review the Company Website:
A company's website plays a vital role in its online presence. Hence, it is mandatory to do an SEO audit to examine where it stands. Thus, you can determine whether the website needs a few minor updates or a major change.
Check for the following while you perform an SEO audit for the website:
Examine the content on the homepage. Often a homepage welcomes a visitor, so it needs to be in place. Is the content engaging? Or is it stuffed with too many keywords?
Are there any specific pages on the website explaining the company's products or services? If so, is the content informative and easy to understand for the users?
Check whether the title tag of the homepage contains location, keywords, and brand.
Does the page have a name, address, and phone number located in the header or footer? Is the page schema marked?
Double-check the structure of the website.
Are there any blogs listed on the website? If so, are they actively posting?
Does the website list all its social networks?
Staying active on social media networks is inevitable for any company to build an established online presence. So, do not miss to check out their social media handles.
Here is the list of things you have to check for in their social media networks:
What social media networks are they present?
Are they missing any crucial social channels that need their presence?
Are they active on those social networks?
Do they have engaged followers?
Backlinks are links from a page on one website to another. Earning backlinks are crucial for SEO as it signals to Google that another resource on the web finds the content valuable so that they have given a link to that page on their website.
However, backlinks should be authentic and not sponsored or spammy. You can check the following points while doing a backlink audit.
Assess the backlinks of the business
How many backlinks are there in total?
Record the number of linking root domains
Does the anchor text look natural; or have too many commercial terms?
Check all of those referring domains. You can do so by visiting a few sites. Do you see a pattern? Do you sense a lot of paid links, link directories, blog comments, forum profiles, and more? If so, inform clients about removing those and focus on building valuable backlinks.
A location citation is when a third-party website lists your business details like its name, location, and contact information. It does not require a backlink to your website.
Often the top results on SERPs are businesses that have a listing on local directories like Yelp, Home Advisor, Trip Advisor, Foursquare, and other directory listings. Hence, it is crucial to get your business listed on all prime online directories. Thus, your potential customers can find your business.
Citation analysis is a crucial aspect of any local SEO audit. Thus, your presence on those prominent local directories on the internet will help you rank higher on the search engines.
As people today can't withstand a second delay, Google considers loading speed as a crucial ranking factor. Thus, if your client's website loads slowly, you need to optimize its content and structure and make it load faster.
Tools like Google's Page Speed Insight and Gtmetrix allow you to quickly analyze the website speed. They will give your relevant insights on how to optimize the site performance.
Here are a few steps you have to look into for improving your site's loading speed:
Reduce the server's response time
Minimize HTTPS requests
Optimize visual content
Minimize redirects
Enable browser caching
Keep your website from heavy files like images, CSS files, unwanted plugins, and more.
After the arrival of smartphones, most people access the internet through them rather than from a laptop/desktop. So, businesses need to maintain their websites mobile-friendly.
Here is how you can optimize your client's website for mobile phones:
Make mobile-friendly content that users can read on mobile phones.
Make sure the links are easy to tap.
Double-check that the content fits the screen.
Use high-quality and interactive visual content.
You can use Google's Mobile-Friendly Test to assess the performance of your design responsiveness readily.
Final Thoughts:
Working on Local SEO for websites is mandatory in today's digital world of local searches. With the skyrocketing usage of smartphones, people try to find solutions for all their problems and questions through search engines in a few swipes. Hence, if your business didn't get listed for local searches on the SERP, you are already losing a big customer base.
So, optimizing your business for Local SEO is crucial. And, doing a Local SEO audit need not be a challenging task anymore. Our handy and simple guide will help you do a website audit in just 30 minutes. Do a comprehensive Local SEO audit for your client's website and help them drive optimal traffic, generating excellent revenue. Of course, you grow by adding value to your client's businesses.
Author Bio: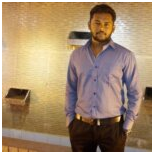 Vipinraj Nair is the Founder and CEO of Cypherox Technologies PVT. Ltd, a leading web & mobile app development company. He loves to write about the vital role of web development for different industries, custom web development, digital marketing, website cloning, mobile app development, and the latest technology trends.
Guest Post Service By www.guestarticlehouse.com
Total Views: 942 ,