While you may be clueless about what to give your loved ones on their special day or during the holidays, choosing the perfect gift for men is much more bothersome and confusing to many. Perfume is never a bad idea when all else fails, and you're out of gift ideas for your dad, brother, or boyfriend. To be honest, it could be the best gift you could give them as you'll never go wrong by gifting a fragrance gift set for men.
Unlike the gender stereotypes most of us believe in, men are also sentimental in nature. Give them anything, and they will treasure it forever. Give them perfume, and they will use it until it runs out – as most gents do.
Perfumes convey how well you know a person since specific scents highlight personality, showing how well you know the receiver and how important they are to you. It's an emotional gift that men will absolutely love to receive.
Sensational Fragrance Gift Sets for Men
When you love someone, you certainly want the best for them. While perfume gifts can overwhelm gentlemen, a fragrance gift set for men does more than a single scent can do. It offers refreshment, highlights personality, and brings superb masculinity.
A fragrance gift set for men often includes aftershave essentials such as body lotions, shower gels, and deodorant or body sprays. It's the perfect way to prove your affection, enough to cover them with oozing confidence from head to toe.
Feel free to choose a fragrance gift set for men from the recommended choices I listed below.
Amouage Men's Miniature Set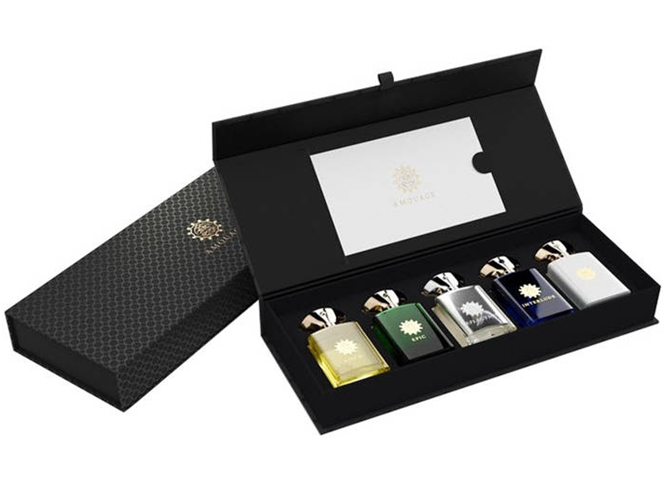 This 5 miniature Eau de Parfum of Amouage Men maximizes sophistication and grace. Anyone who receives this set will feel valued and appreciated. This one-of-a-kind package consists of 7.5ml versions of Amouage's popular scents, such as Gold Man, Reflection Man, Epic Man, Honour Man, and Interlude Man.
If the receiver prefers wearing different fragrances each day, this set is perfect for him. He can change his aroma depending on his daily mood. For exquisite and manly vibes, Gold Man best can suit his day with musky, amber, and white floral accords. For a relaxing but unique aroma, he can try Reflection Man, which highlights a refined and luxurious scent.
Meanwhile, love at first sniff is sure to happen with Epic Man's amber and woody scent. For days when he wants his confidence to skyrocket, he can spray Honor Man, a fragrance known for its smoky with a touch of fresh and spicy notes. If he wants to spice up his day, Interlude Man can bring that aroma in just a spray.
It doesn't matter what mood they're in for the day. The Amouage miniature fragrance gift set for men will surely freshen their day.
Paco Rabanne 1 Million Gift Set 1
Spoil your loved one with this 5-star giftset from Paco Rabanne. This elegant yet manly-looking gift box contains a 100ml Eau de Toilette Spray and a 100ml shower gel from their 1 Million fragrance line.
Warm spicy, cinnamon, and citrus accords will envelop your loved one as he covers himself with the set's Eau de Toilette spray and shower gel. Through the collaboration of both items, you'll not only be giving a distinct scent but a sexy feeling for them as well. 1 Million fragrance is a head turner and captures the attention of many. If you're thinking of giving a gift to someone with hectic days, the longevity of this fragrance will best suit him. They can bid retouching goodbye as it isn't most likely to happen.
Caron Aimez Moi Comme Je Suis Gift Set 1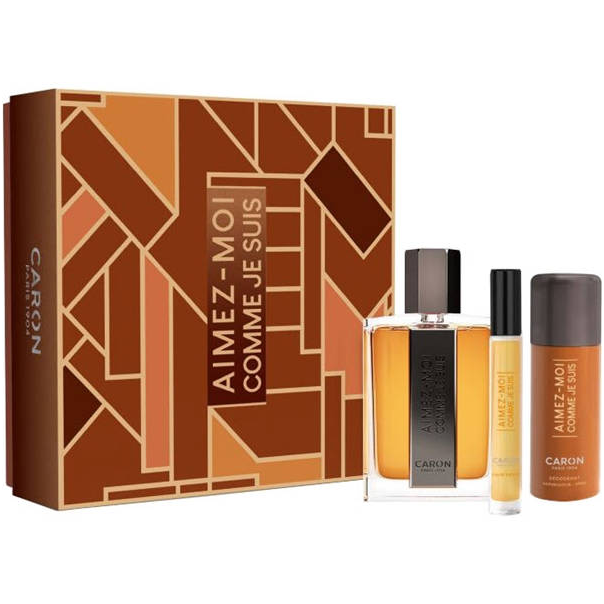 Perfect for outgoing loved ones, Caron Aimez Moi Comme Je Suis Giftset 1 will confidently inform the crowd that the king has finally arrived. This gift set includes 3 different aromatic items such as a 125ml Eau de Toilette Spray, a 10 ml travel spray, and a 50 ml deodorant spray.
The Caron Aimez Moi Comme Je Suis line brings a woody and nutty aroma that you'll surely want your favorite person to wear. It's a unique scent provided by the top notes of ginger and grapefruit, together with middle and base notes of hazelnut, Haitian Vetiver, tonka bean, and tobacco.
Through your thoughtful gift, they'll master the art of charm and break free from familiar scents.
Let your Loved Ones Shine with Your Fragrance Gift Sets
It's beyond doubt that you love to see heart warming reactions from people you give gifts to. Your hearts will be filled once you know they enjoy and appreciate your gifts. Make this overwhelming feeling last with a fragrance gift set for men, and let your genuine affection for your loved one linger with its scent.
Guest Post Service By www.guestarticlehouse.com
Total Views: 7850 ,