Summarize:
With the help of this article, you can filter your Exchange 2016 to Office 365 migration options. Learn the steps for the method that you choose and quickly migrate your mailboxes. Let's dive right into it!
Exchange On-premise server is used by many organizations but due to the COVID-19 pandemic, users had to work from home.
Due to this situation, using Exchange On-premise made it impossible for which various organizations started moving to the cloud.
The best cloud-based service is Microsoft 365 (formerly Office 365) which can be used for communication and exchanging information.
However, when you start looking for a solution, you will see that there are not many Exchange 2016 to Office 365 migration options.
And the one's found is pretty complex and difficult for a novice or non-technically inclined user to apply.
So, we have come up with the best explanations to help you with migrating your mailboxes to the cloud without any data loss.
Take a look at the methods given below to learn how you can perform the migration manually and professionally.
What Exchange 2016 to Office 365 Migration Options Are Provided?
Here, you will find two methods for the migration procedure i.e. Manual Approach and Professional Solution.
First of all, the professional solution will be explained in order to help you easily migrate all the mailboxes you want without any sign of data loss.
Then, we will give a brief about the manual approach which is a complex procedure and has a lengthy procedure.
If you want to apply the manual method, you will have to take assistance from experts in migration or you should have high technical expertise.
Because this method from Exchange 2016 to Office 365 migration options is not easy to understand and has a high risk of data loss if not performed correctly.
Professional Solution to Migrate Data from Exchange On-Premise
By choosing the expert's advice, the migration task becomes quick, the data remains safe, and the procedure becomes painless.
Seems soothing, right?
But what is this method?
This is the Exchange On-Premise to Office 365 Migration Tool which has a simple user interface that you can easily understand even if you are a novice user.
Going for this method from Exchange 2016 to Office 365 migration options, you will be offered various great features as explained below:
Migrate all the data from Exchange On-Premise in bulk
Export data of multiple user accounts simultaneously
Delta Migration option to transfer newly arrived data
Allows to move data selectively via Date & Category filters
Speed up the process by using Concurrent Migration feature
Live progress report on the in-built dashboard of the process
Compatible with Windows OS 10 (64-bit) & Widows Server 2012, 2016
Now, check out how these features and the tool work.
Steps of the Tool from Exchange 2016 to Office 365 Migration Options
Install the utility and go to the Setup tab to set Source as Exchange and Destination as Office 365.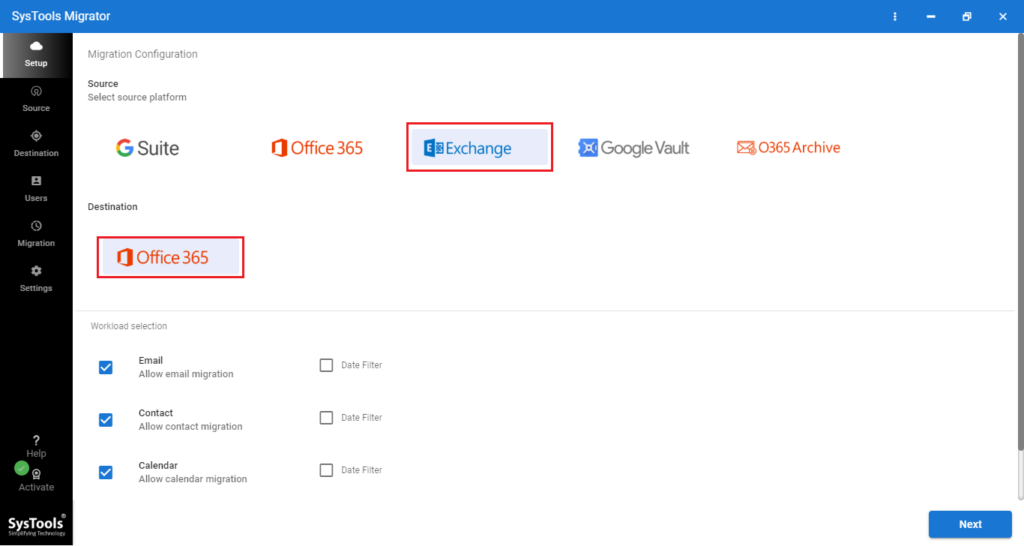 In the Workload Selection field, mark the items you want to export data from in the Categories section and apply the Date-filter for each.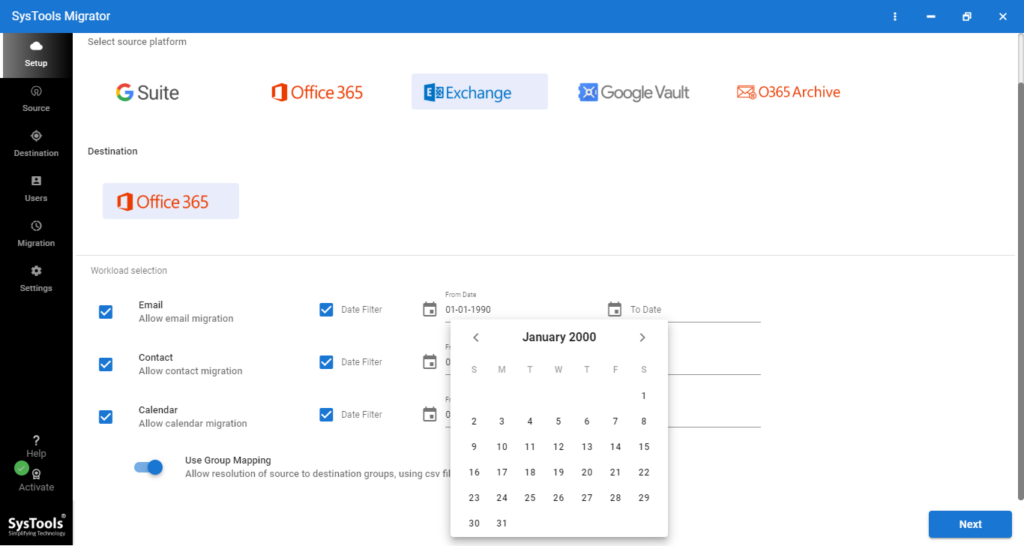 Enter the details asked in the Source Window for Exchange and Validate all the permissions. Press the Next button to move further.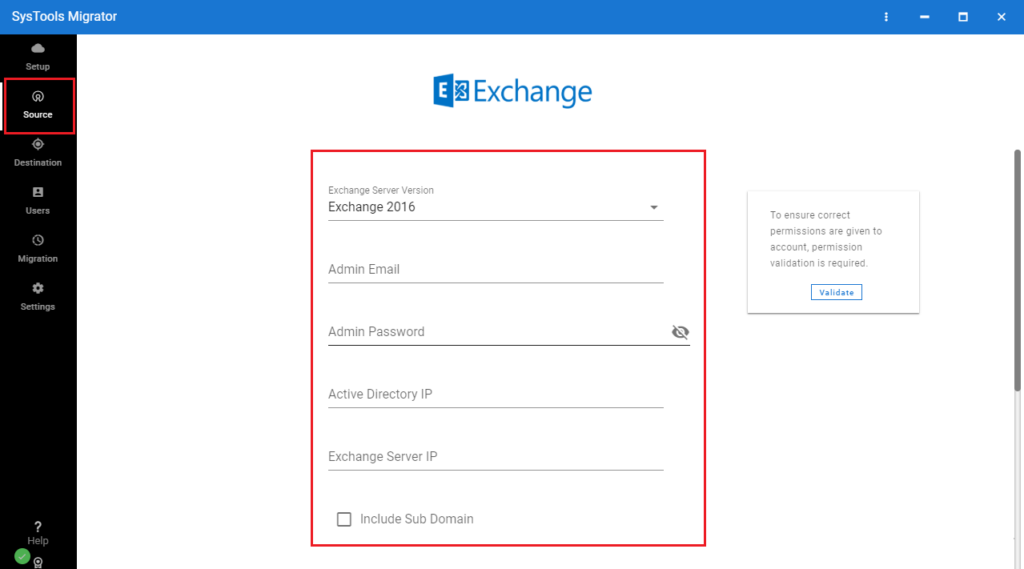 Give the admin credentials for Office 365 account in the Destination Window and hit the Validate button for permissions. Hit Next.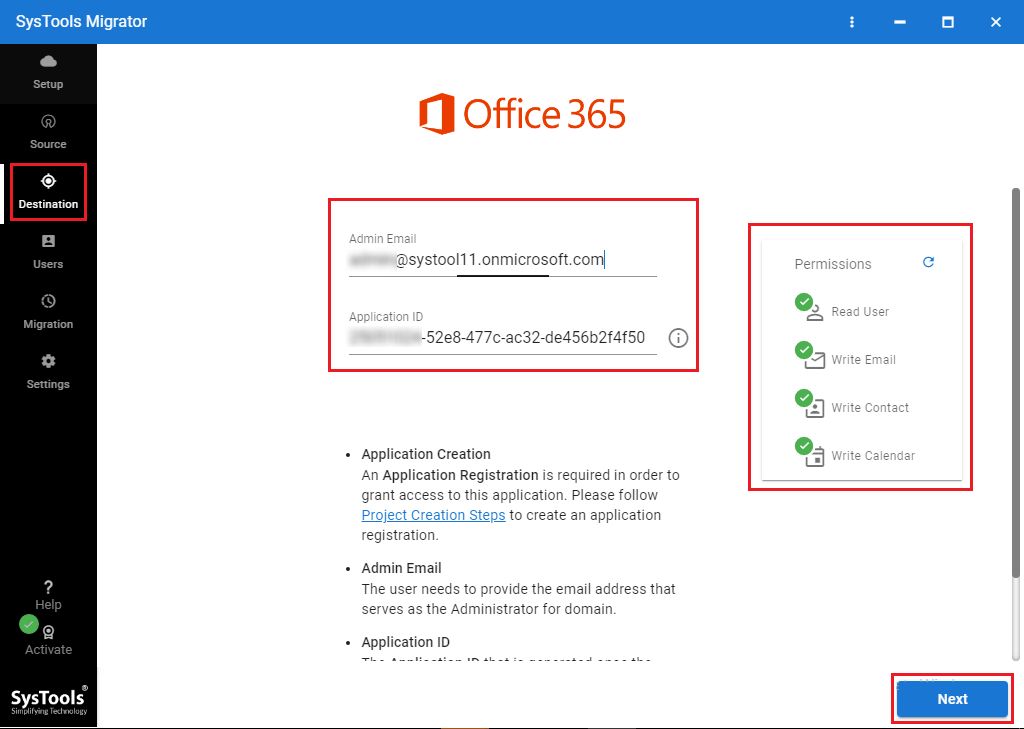 Choosing the tool from Exchange 2016 to Office 365 migration options allows you to Fetch Users or Import Users in the software for mapping.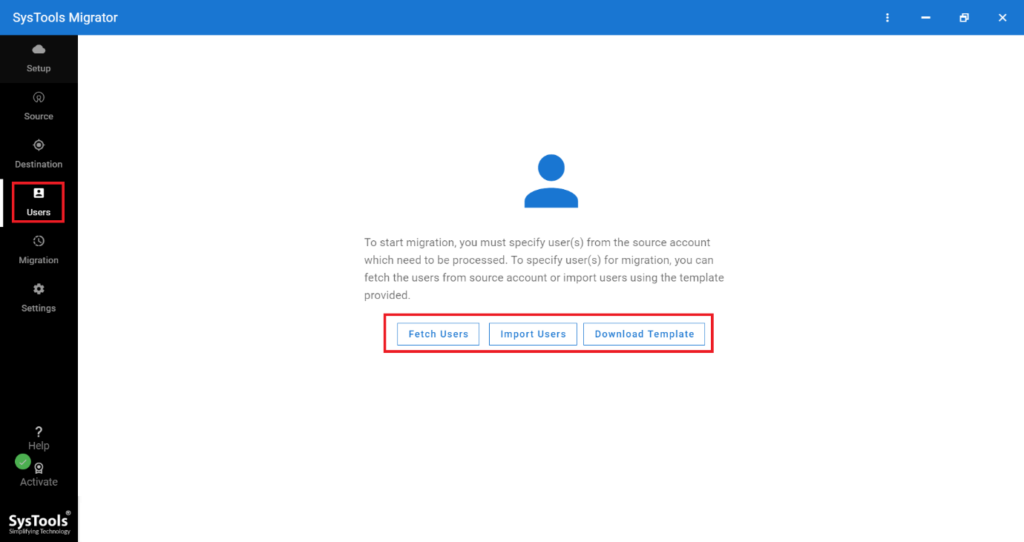 Lastly, you can set the priorities, Validate the accounts in both Source & Destination and hit Start Migration.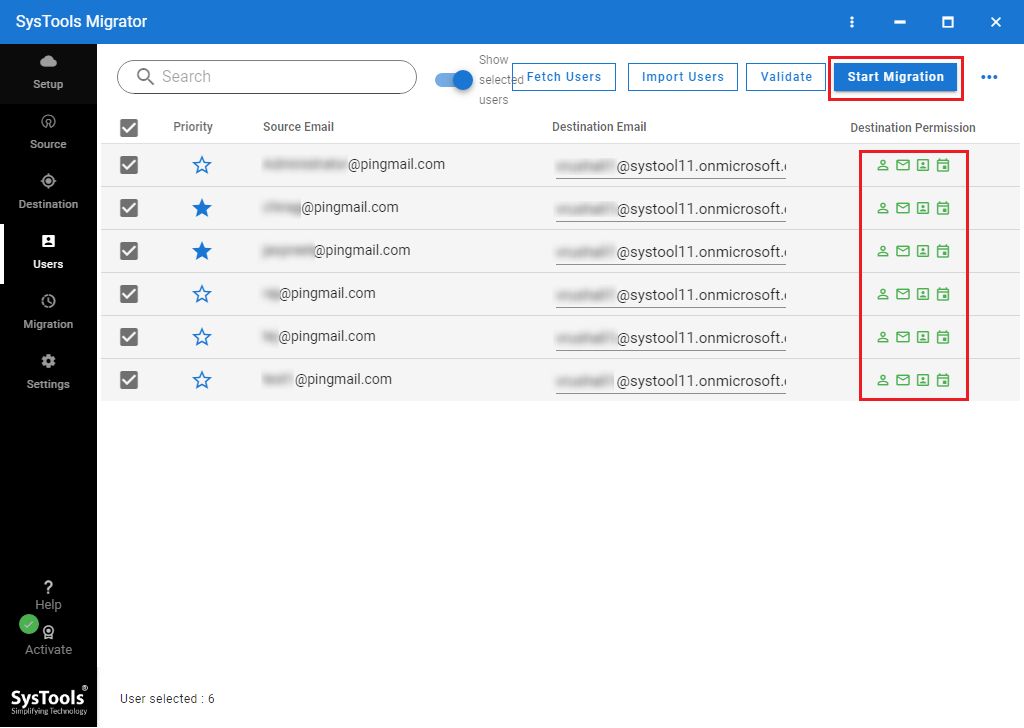 After a few minutes, the process will be completed. You can use the Delta Migration option here to export only the newly received emails.
The tool will scan the mailboxes again and migrate the newly arrived files only to avoid any duplicity issue.
If you wish to know about the manual method for migration, find it below.
Manual Approach from Exchange 2016 to Office 365 Migration Options
The manual technique for migration to the cloud is Hybrid Migration which can be used to move all the data from Exchange 2016.
It works if your Exchange Server is a part of your Active Directory. Then, it becomes a default option to use the Hybrid migration method.
However, it should be noted that the procedure when seen and when applied are two very different things.
For this approach to work, you have to first create a relationship between the On-premise Exchange server and Office 365 (also, Exchange Online).
Going for manual methods from Exchange 2016 to Office 365 migration options can become a hardship.
This is because after creating the bond, you have to take care of a few pre-requisites and plan the migration procedure, create a pre-migration and a post-migration checklist.
When everything is done and you have the technical expertise required, only then you can go with this method.
Final Say
As we know that moving to the cloud has become a necessity, the methods for the same are not always safe. This is why the Exchange 2016 to Office 365 migration options have been filtered here which you can choose the suitable one from. Make sure you learn all the things before choosing a solution.
Guest Post Service By www.guestarticlehouse.com
Total Views: 590 ,