Abstract: Nowadays, most users have two or more cloud drives for saving precious files online with the purpose of expanding free cloud storage. Then a cloud storage manager is necessary, which can help to manage all cloud drives or accounts in one place, and facilitate the cloud data transfer, sync and backup without manually downloading and uploading.
A Practical Cloud Storage Manager-MultCloud
MultCloud is a practical cloud storage manager that can manage, transfer, sync, and backup between cloud services. It is an online storage manager that allows users to connect their various cloud services to one place. With it, users can easily migrate files from one cloud to another without the process of downloading and uploading.
It supports over 30 cloud services, including Google Drive, OneDrive, Dropbox, MEGA, Google Photos, box, pCloud, Flickr, and so on. With a few clicks, users can access all their cloud services and act some basic functions such as uploading, downloading, copying, moving, cutting, pasting, deleting, renaming, etc.
It only works as a channel between two services. All files and data that users visit will not be saved and they are still kept in their original cloud drives. In this case, it can only be allowed to access into your cloud drive accounts with your own permission.
Moreover, MultCloud  applies 256-bit AES Encryption for SSL during data transfer. It's an advanced encryption technology that can effectively protect users' data from tampering, interception and cracking. So, it's 100% safe to use it.
Demonstration: Easily Manage Multiple Cloud Storages with MultCloud
Here I will introduce 5 core functions that can help you manage multiple cloud storage accounts.
Cloud transfer: directly transfer files across cloud services.
For example, if you want to move files from Dropbox to Google Drive, I will show you the detailed step.
Step 1: You need to click on the "Sign Up for Free" button.

Note: You can log in with your Google or Facebook account.
Step 2: After you log in, move to the left side, and click "Add Cloud". Then, add your Dropbox and Google Drive to MultCloud.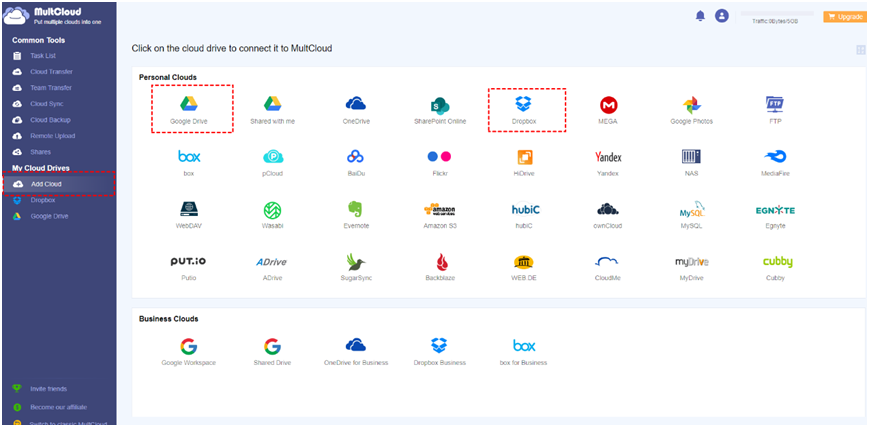 Step 3:Go to the "Cloud Transfer" button, and choose Dropbox as the source and Google Drive as the target. Press "Transfer Now", it will start the transfer right away.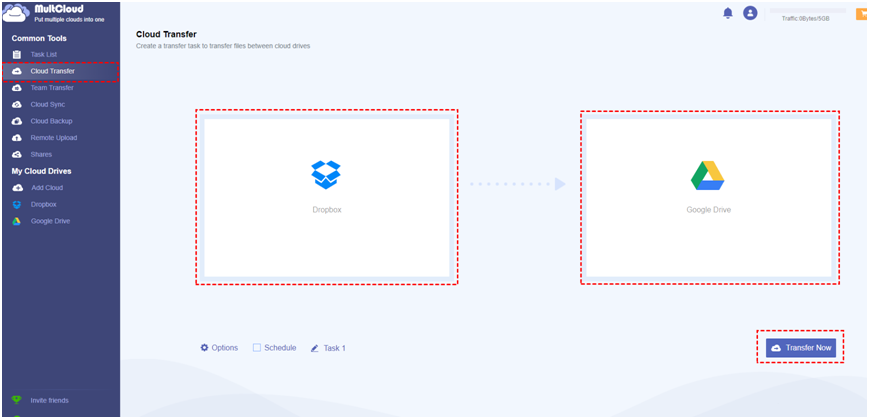 Note: The picture above is moving the whole Dropbox to Google Drive.
If you merely want to move several files, you can choose a specific folder.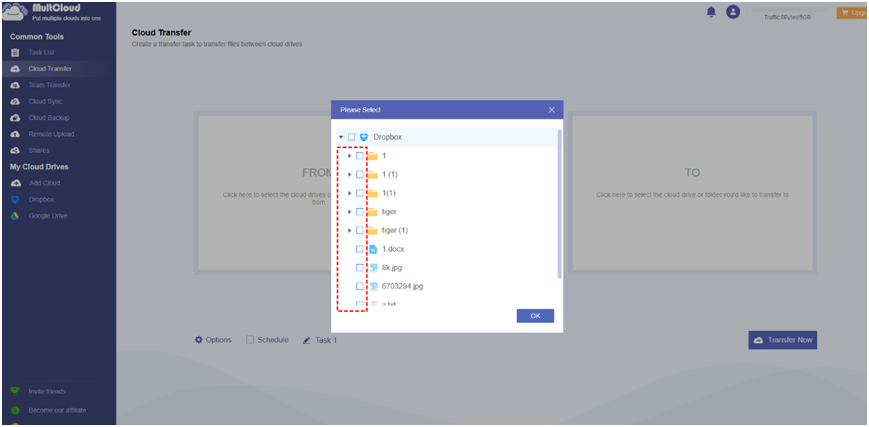 Cloud Sync can keep the data of two or more cloud drives consistent.
Now, the cloud sync is mainly including One-Way Sync, Two-Way Sync, and Real Time Sync.
One-way sync means that changed files are uploaded to the target cloud, but any changes to the content inside the target would not reflect in the source.
Two-Way Sync means that no matter what changes on the two sides, the corresponding changes will be reflected to the other one in time. In a word, the content of the two sides is always consistent.
Real Time Sync can help you sync data in real time. It would monitor the source directory you need to sync in real time. If any files or folders change, it will immediately sync them to the target directory.
Real time sync is commonly used, so I will show how to use it to sync Dropbox and Google Drive.
Step 1: Tap the "Cloud Sync" button, and choose Dropbox as the source and Google Drive as the target.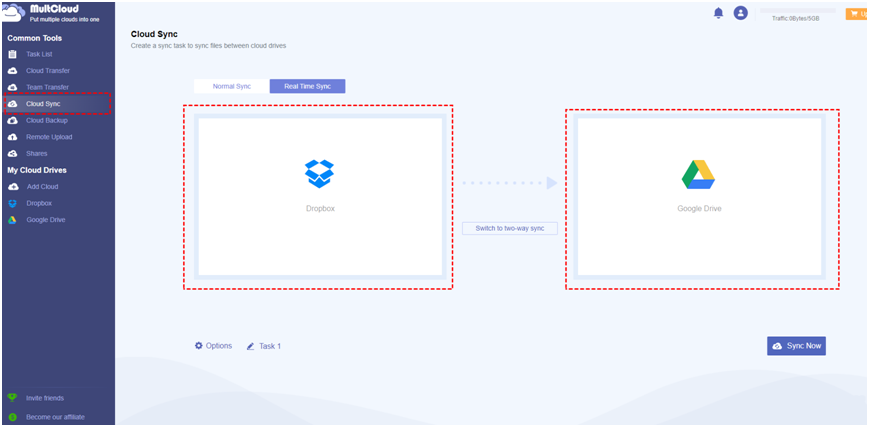 Step2: Press the "options" button, and choose "Two Way Sync".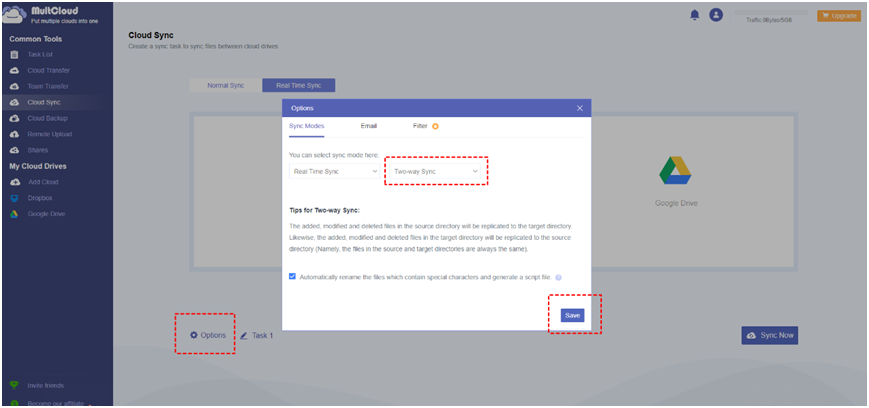 Note: You can activate the email notification if you'd like to be notified about sync logs.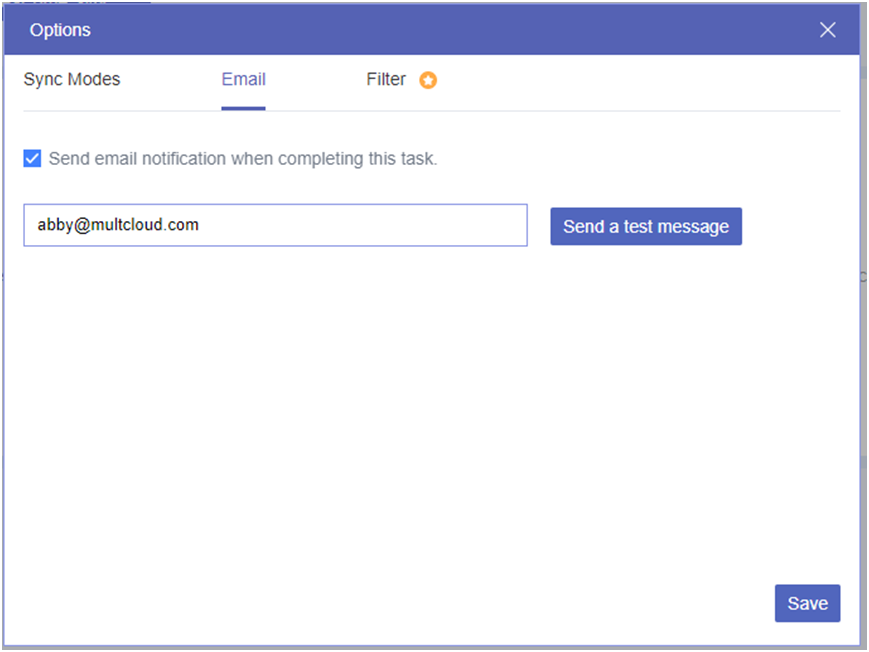 Step3: Tap the button "Sync Now".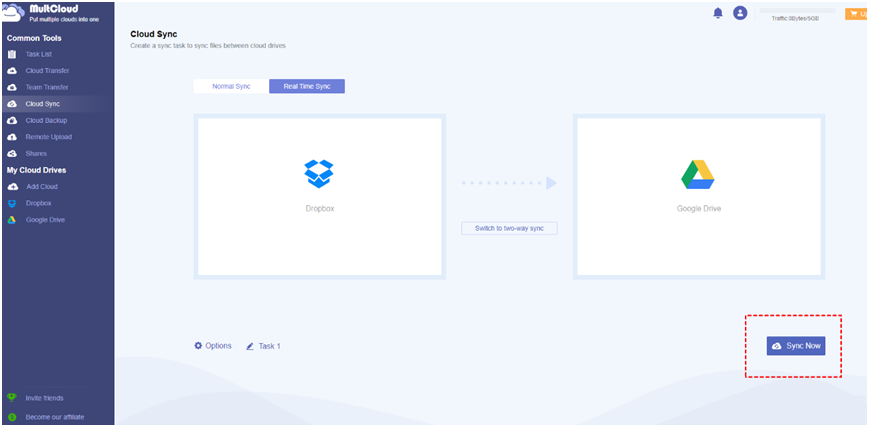 Cloud Backup can help you backup online files from one cloud to another.
Once data isunfortunately lost, you can restore the original data from the target cloud easily.
Click the "Cloud Backup" button, and choose Dropbox as the source and Google Drive as the target. Then, press "Backup Now".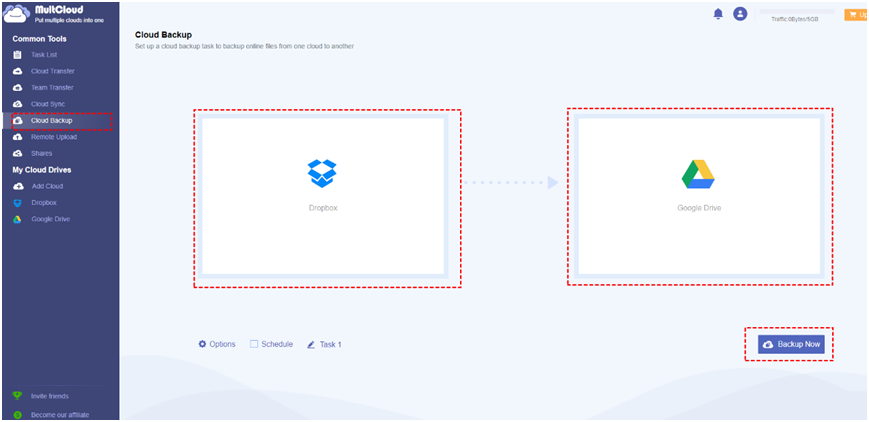 Remote Uploadcan download the file directly from its link and upload it to the target cloud service.
Therefore,there is no need to log in your cloud service, just open MultCloud and directly remote upload files to your cloud service, whichwould save lots of time.
Step 1: Click the "Remote Upload" button on the left menu bar. In the Remote Upload page, click the "Create Task" to open "Add Link Task" window.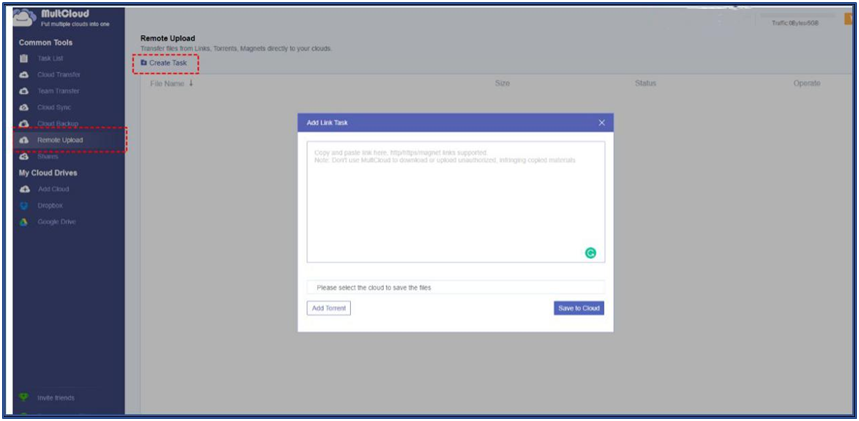 Step 2:  Copy and paste the link into the top red box. And select the cloud to save the file.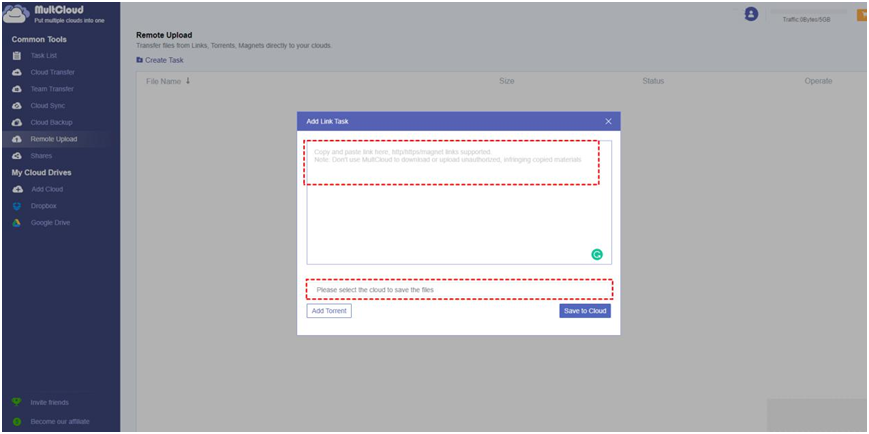 Note:  Please don't use MultCloud to download or upload unauthorized, infringing copied materials. 
Step 3: Press the "Save to Cloud" button to start uploading.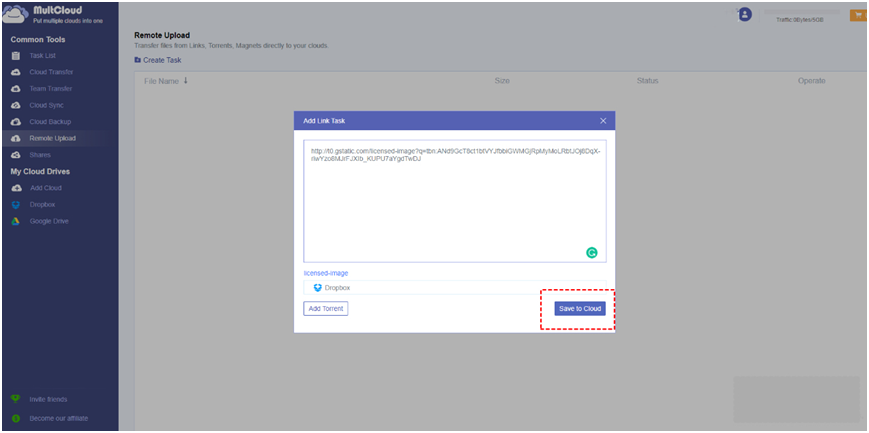 Shares can help you create a share link for files in your cloud. And then, you can send the link to others so that they can view and download these files.
Step 1: Right click a folder or file which you'd like to share, then select the "Share" button, and click "Share with MultCloud".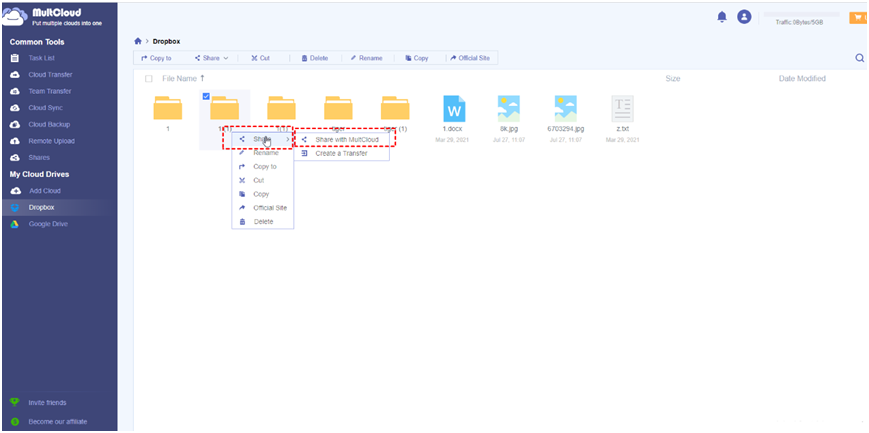 Step 2: It supports three share ways, containing public share, private share and source share. And you can choose the one you need.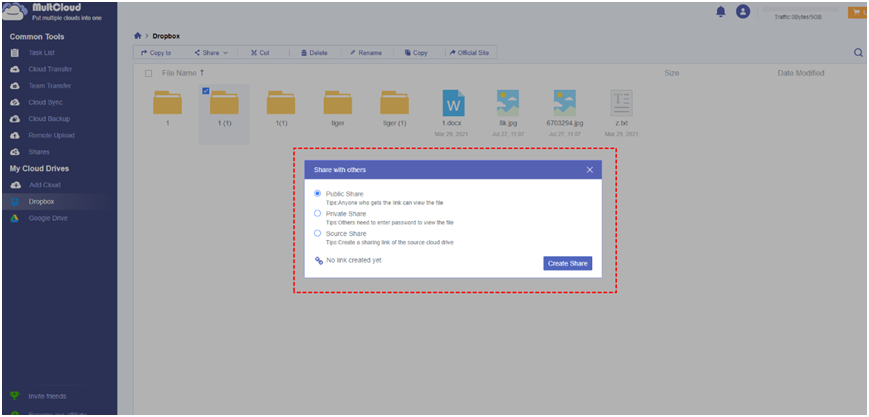 Step 3: After clicking"Create Share", it will create a share link. Then you can send the share link to others. Or, you can directly sharethe link to Facebook/Twitter/LinkedIn.
If others click on your share link, they can directly save files to their clouds, and download files to local devices.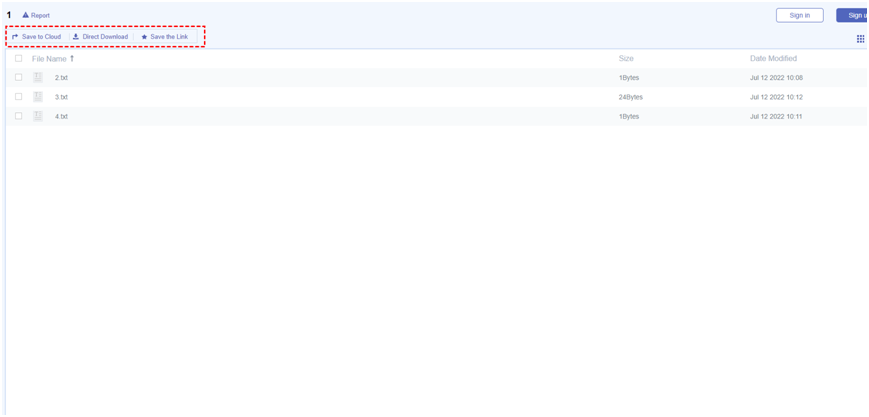 They can effortlessly save the files to more than 30 cloud services supported by MultCloud.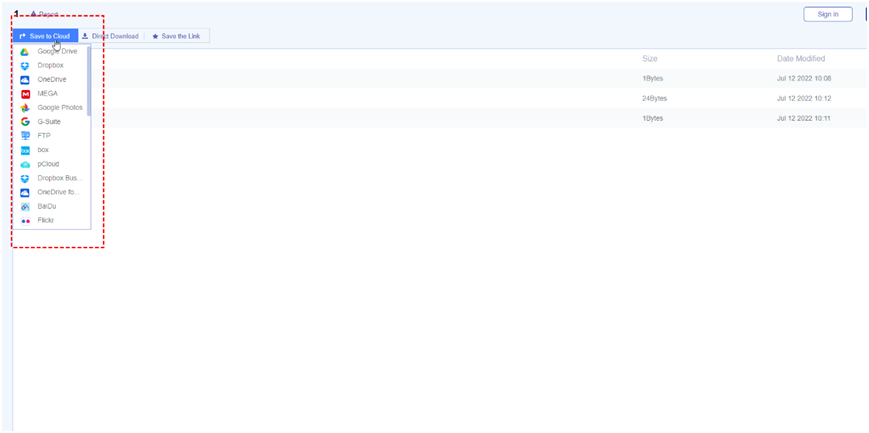 Conclusion
As a cloud storage management tool, MultCloud is efficient to transfer, sync, backup, upload, download, delete, share, copy and rename files and folders in cloud services. With it, you don't need to worry about the problems of cloud storage management anymore.
Total Views: 1333 ,