The HONOR Band 6 is a brand new smart band from a Chinese manufacturer HONOR, which was a subsidy of HUAWEI before and was sold to a consortium this November. Featuring a 1.47 inches touch display, the biggest of its kind, the HONOR Band 6 was praised by media that would lead smart bands into a new era of the full screen.
What's so special about the HONOR Band 6? And is it worth your money if you are considering getting a smart band? Let's dive in to figure out.
All Features of the HONOR Band 6
The HONOR Band 6, as mentioned earlier, comes with 1.47 inches AMOLED touch color display with 368*194 resolution and weighs only 18g without the strap. Its replaceable strap from factory default is made of skin-friendly silicone rubber, which is dirt resistant and pretty comfortable to wear.
In terms of the features, the HONOR Band 6 includes various useful functions, such as 24/7 heartbeat monitoring, sleep monitoring, menstrual cycle tracking, SpO2 monitoring, stress monitoring, and breathing exercises. The HONOR Band 6 also supports as many as 10 workout modes, including indoor running, outdoor running, outdoor cycling, outdoor walking, indoor cycling, pool swimming, indoor walking, elliptical, rower, and freestyle training while auto-detecting workout modes are also supported.
In addition, HONOR Band 6 has a decent battery, which could last for 14 days in typical use and 10 days in heavy use. And its water-resistant level is 5 ATM.
The HONOR Band 6 is available in three different colors, Coral Powder, Meteorite Black, and Seagull Grey. And customers have the option to get the version without NFC or with NFC according to different requirements.
The Price of the HONOR Band 6
The HONOR Band 6 is actually not released yet outside of China. It is launched in China on 3rd November 2020, priced at 249 RMB for the version without NFC and 289 RMB for the version with NFC.
HONOR Band 6 could be pre-ordered at around $45 from Amazon currently.
HONOR Band 6 vs Xiaomi Band 5
Why do we want to compare HONOR Band 6 with Xiaomi Band 5, instead of any other model in the market? This is because the brand Xiaomi as the 3rd player, according to a report from IDC, now has 11.8% of the wearable market share, while similar to the brand HONOR, this brand is famous for competitive electronic devices.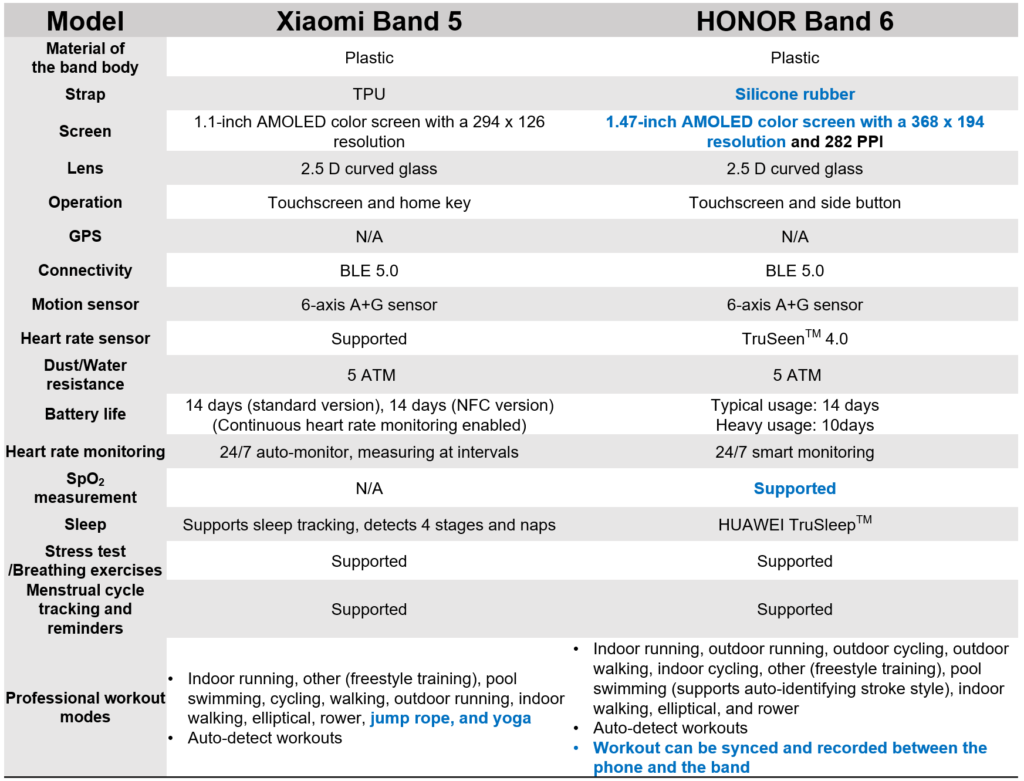 According to the above table which compares the features of HONOR Band 6 and Xiaomi Band 5, we can see that, though both have quite a lot of the same features, there are several differences.
HONOR Band 6 has 1.47 inches touch AMOLED display, while Xiaomi Band 5's screen is only 1.1 inches. HONOR Band 6's screen is 33.6% bigger than that of Xiaomi Band 5.
HONOR Band 6 comes with a strap made of Silicone Rubber, while Xiaomi Band 5 with TPU instead. After searching online, it's found that compared with TPU, silicone rubber has better high and low-temperature resistance, while feels comfortable to wear and non-toxic and eco-friendly.
Also, it is worth mentioning that HONOR Band 6 support SpO2, blood oxygen measuring. During the pandemic, this is a pretty useful feature to protect ourselves and our family.
Another difference is the workout modes. Though both HONOR Band 6 and Xiaomi Band 5 support around 10 workout modes and could detect workout modes, the modes available are a little bit different.
The price of Xiaomi Band 5 currently from Amazon is $37, which is $8 cheaper than the HONOR Band 6.
Well, for customers who want to buy a smart band, is HONOR Band 6 a good choice? Once we have considered buying a budget electronic device, actually we want to get something high quality and also all the features that we want, while fewer features that we don't want, because no one wants to pay for something not required. So whether this HONOR Band 6 worth your money, is actually decided by you. Do you need the SpO2 feature? What about a bigger touch screen? If the answer is yes, then try the HONOR Band.
Guest Post Service By www.guestarticlehouse.com
Total Views: 1538 ,