Almost everyone in the world knows about tablets and what they are capable of. From the affordable tablets to the lucrative ones, they all can provide versatility, especially when used as an external display. Buying tablets can cost you lower than buying a new monitor for your desktop setup.
Adding a tablet as your second display gives you more productivity and is more practical than an average monitor. It will not take up a lot of room and has a unique look if you are tired of staring at a large monitor. You can also use it anytime as long as it is charged full and you are connected to a stable Wi-Fi. In this guide, I will show you several ways how you can use your tablet as a second monitor.
How to Use an Android Tablet as your Second Monitor (Windows)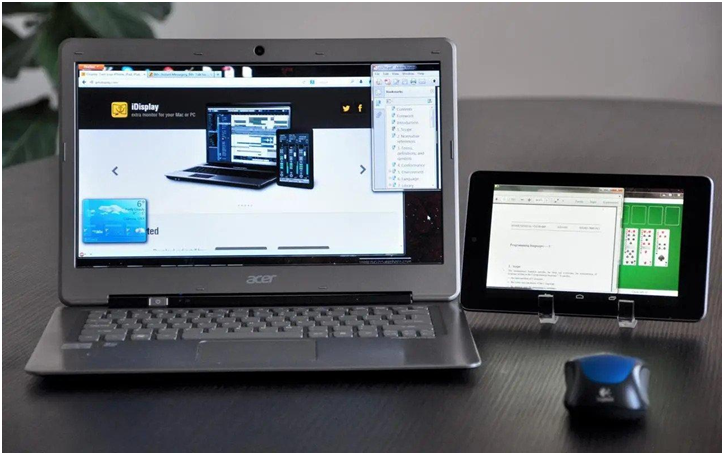 Via a Wireless Monitor Extension app
First, make sure that your tablet is compatible with all kinds of apps, in case you will need to install one. All you will need to do is to install the app on your tablet and your computer as well. Then, you will need to connect the computer to your tablet by either using a Wi-Fi connection or a USB cable. Here are some reliable wireless monitor extension apps:
Spacedesk
Spacedesk is one of the most popular applications when it comes to converting your tablet into a second display. It is available on both Windows and macOS; all you will need to do is to connect your tablet to the computer via a Wi-Fi, LAN, or USB cable connection.
To use Spacedesk on your computer and tablet, do the following:
The first thing to do is download and install all drivers needed to run Spacedesk.
Once you open the app, it will automatically detect and list down all PCs on the same server that has the drivers installed. Find your PC and select it to connect.
Next, launch the app on your tablet and connect to your computer. The tablet will display some network information, such as your IP address and the connection name.
Once both devices are linked, go to Control Panel > Display Settings. Alternatively, right-click and select Display Settings.
Below Multiple Displays, select Extend These Displays and click Apply.
You can now see the computer display from your Android tablet.
The good thing about Spacedesk is that you can immediately use it once you have your tablet and the computer in a common network. It also means that you will not need any cables since this is purely wireless. However, make sure to install the latest Spacedesk drivers on your Windows computer for it to work properly.
How to use your iPad as a Second Monitor (macOS)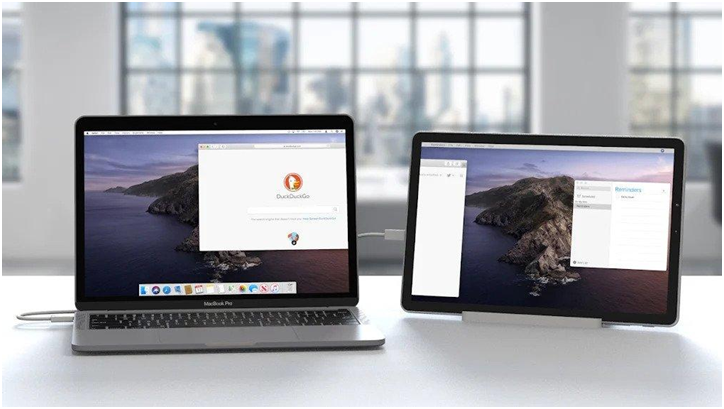 You can use your iPad as a second monitor using a different app. The most popular app for macOS users is iDisplay. It is a similar app to Spacedesk, but it is exclusively for macOS. To use iDisplay on your Mac and iPad, follow these steps:
Download and install iDisplay on your Mac. Also, allow any permissions that the app needs to run smoothly.
Also, download the iDisplay app on the App Store.
Open the app from your tablet. It will immediately start searching for nearby computers.
From the list, tap on your Mac to link both devices. Then, select Additional Monitor to use your tablet as a second monitor.
That's all you will need to do to connect an iPad to your Mac as a second display. If you have an Android tablet, you can also download and install the iDisplay app from the Google Play Store and connect it to your Mac. The iDisplay app can allow up to four external displays as long as you connect them to a common wireless network.
Use your Android Tablet as a Second Monitor via a USB Cable
Though both of the apps above are the most convenient ways to connect your tablet, a wired connection can be useful when you do not have access to any Wi-Fi or wireless connection. However, you must download the apps first before using them.
To use your tablet as a second monitor via a USB cable, follow these steps:
Connect your tablet to the computer using a USB cable.
Download the corresponding app based on the OS of your computer; for Windows, you can use Spacedesk and for macOS, use iDisplay.
Once you have the apps and app drivers installed, you can now connect both devices.
On your tablet, search for your computer, and it will be linked instantly as a second display.
Since this is a wired connection, ensure that the USB cable is in proper condition and is connected firmly to both of the devices. If you have a faulty connection, this would not work great, compared to a wireless connection.
Splashtop Wired XDisplay
Another reliable alternative for a wired external display is the Splashtop Wired XDisplay. Unlike the other apps mentioned above, it only allows you to connect your tablet via a USB cable. However, this app optimizes your viewing experience as it supports a full HD resolution at 60 frames per second.
To use Splashtop XDisplay to link both your tablet and computer, follow these steps:
Download and install Splashtop Wired XDisplay from their official website.
Also, download and install their mobile app to your tablet. It is available on the App Store and Google Play Store.
Then, connect your tablet to the computer via a USB cable.
Open the Splashtop Wired XDisplay agent on your computer and go to Advanced; tick the Enable Mirror Mode checkbox.
You can now use your tablet as a second monitor.
Splashtop Wired XDisplay is available on both Windows and macOS, which is a big advantage compared to Spacedesk and iDisplay. The same goes with their mobile apps; they are also available on both the Google Play Store and App Store. You must bring a USB cable with you as this exclusively needs a wired connection, but it provides a more responsive and lag-free display.
Google Remote Desktop
This app is similar to the built-in Remote Desktop application on Windows. Google Remote Desktop allows you to control your PC using your Android tablet. You can also use your tablet as a second display using this app. Like all Google items and apps, the Google Remote Desktop is easy to use and only requires you to have an active Google account.
Final Thoughts
Those are all the ways to use your tablet as an external display. Depending on your computer's OS, there are different ways to make this possible. Whether it is for productivity or fun, there are various reasons to use your tablet as a second display. Due to the versatility of tablets nowadays, you can use them for a unique look at your desktop setup. Tablets are also lightweight and are more practical to use compared to a conventional monitor. To use the apps above, you will only need a USB cable or a Wi-Fi connection.
About Author
Dwane Johnson is the founder and CEO of Pick Tablet, a website dedicated to troubleshooting problems related to tablets and smartphones. He loves to write about technology and gadgets.
Guest Post Service By www.guestarticlehouse.com
Total Views: 8712 ,