Demand for video collaborations can be seen trending across the world for business needs, indicating an accelerated growth of this market in near future. Virtual events are a new reality and videos are hot selling from this perspective. Buyers expect a response within 10 minutes of an inquiry, and this short-lived patience of buyers can be easily addressed with a click of a button on your website.
In this article, we will explore how embedding a video conferencing feature to your website can pep up your business and how this technology can be easily introduced to your current application or website.
In this article, we have explained:
A Quick Look at What Is a Video Conferencing App
Most Marketable features of a Video Conferencing App
Make Your Website More Functional By Adding Video Conferencing Application
How Do Video Conferencing Web Apps Function?
What is the right video conferencing web solution?
Building Live Conferencing Using Full-Featured APIs
Conclusion
A Quick Look at What Is a Video Conferencing App
By this time you would have attended several meetings without being physically present at a given meeting space. So you have certainly taken advantage of a video-conferencing application already! This technology uses an application to establish connections between two or more attendees in different locations.
Video conferencing API also offers high-quality audio and video experience with many other user-friendly features for clear communication and attendee engagement.
Most Marketable features of a Video Conferencing App
These are a few key features necessary for secure and compelling video meeting events for your business.
1)100% customization
Video technology should facilitate unending customization and upgradable functionalities according to your business model.
2)End-to-end Security
Security and privacy are the prime concerns of any business. The security of the video chat ensures the superiority of a video solution. Encryptions assure the security of communicated data by making sure that other apps are not able to see or hear your call.
3)Quick Implementation
Your video API should ensure that it fits in quickly and easily into your business case so that it could be introduced for use swiftly.
4)CRM Integration
A smooth connection between your CRM software and video app improves CRM records automatically. The need to toggle back and forth between software is eliminated, giving more capabilities to your video events.
5)HD Video Audio Calls
High-definition audio & video enhance the conferencing experience. With the HD feature, even the small details in documents and charts become visible and the sound clarity improves to make it like a realistic meeting.
6)Low latency
Latency has a big impact on the perceived quality of a video conferencing app. Streams that involve two-way communications work best only with the lowest response times. Using the fastest protocols help marketers and entrepreneurs have a pleasing meeting experience.
Make Your Website More Functional By Adding Video Conferencing Application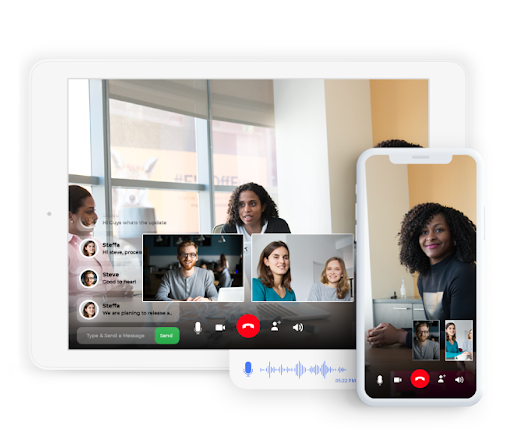 For every type of business, there is a way to add video conferencing to your website, leveraging its advantages.
With video meetings, a major portion of travel expenses boils down and the project execution time also reduces, saving a lot on the project cost.
When companies embed video conferences on the website, it adds a sense of familiarity and involvement among customers and remote employees.
The error factor is reduced significantly due to the virtual communication technique and the meetings get more effective. The prospects are better informed about the services, increasing the possibilities of closing the deal successfully.
The tool allows your company to have a wider reach through the use of corporate webinars, which are very prevalent now on the webspace.
How Do Video Conferencing Web Apps Function?
Video conferencing technology comprises endpoints like a computer or some telepresence system. For example, at one endpoint, there is a customer and at the other end is a video conferencing agent on the website. Video conferencing apps can be used here to establish a smooth connection and message transfer between them. Video conferencing apps are API-driven.
API is an Application Programmers' Interface between the client's web browser and the back-end service you are using. Your web browser app gets inputs from video devices, which are sent through API services. These inputs are then sent to the back-end-server where it is formatted and sent in a way that your customers' browser can understand.
Therefore, video solutions allow video and sound interactions, supporting a large number of participants. Participants can join from different zones and be part of a meeting. These apps have different features and tools that enrich conferencing experiences. Functions like screen sharing, real-time messages, virtual hand raises, mute participants, and meeting recording shape the working of video conferencing apps.
What is the right video conferencing web solution?
Video has completely taken over social channels, and there is no denying the fact that face-to-face communication has the advantage of being able to send body language cues and gestures. Choosing the right video call API for websites depends heavily upon the kind of meetings being held and the user experiences.
In a scenario where your product is complex or has custom modification facilities, you may want to have long interactions and live video agents to handle customer inquiries. An immediate live video integrated on your website will be a really good move to convert your prospect to sale. This idea can come out promising with good sound quality, speed bandwidth, lighting, etc. It will give you a powerful and easy video engagement. So, your web video conferencing needs to have great functionalities and be compatible with any industry.
Look for a fast response time, customization facility, cost-effectiveness, scalability, quality video and audio transmission in these apps. ContusMirrorFly Video Conferencing Solution delivers the best and simplified business communications for an enterprise video conferencing solution that performs smoothly across industries.
Building Live Conferencing Using Full-Featured APIs
Embedding a video conference service involves getting a video conferencing application on your website. This being a technical process, calls for a developer to help you embed video calling API.
Integrating API is only an initial step in this process. So, if you wish to obtain the best video conferencing, it is better to employ a full range of API services. Building this technology from scratch takes a long time before it is delivered successfully. Again, there may be operational complexities to be addressed to meet your expectations. This, of course, is not your core area. ContusMirrorFly Video calls app is a readymade video solution that fairs high on a range of user-friendly features seamlessly. It is designed in a way that it easily integrates with many applications.
Having a powerful video conferencing APIresolves a lot of pain points associated with this tool. It is best to choose a video conferencing tool that does not require you to have much programming expertise to incorporate features. It should also be able to easily work with many applications.
Conclusion
This article gives you an overview of how the working of web video conferencing solutions can enhance your business and fetch multiple benefits to your company. From improving products' marketing potential to multiplying productivity, it creates more opportunities and helps you stand out. Similarly, leveraging the advantages of this technology is after all not so complex with better collaboration, so that you can focus on your core business. Make efforts to collaborate with providers who offer one-on-one customer support along with white label customization. In the end, embedding video facilities makes economic sense for any business.
Guest Post Service By www.guestarticlehouse.com
Total Views: 1136 ,