The bi-directional flow of information between the head office and the field using mobile technology – mobile devices, wearable's, IoT sensors, and so on – is known as Field Force Automation. The data is instantaneously recorded in the backend, avoiding the time and danger of errors associated with manual data entry.
Field Force Management Roadmap – Explained
A field force automation solution that enables you to manage your sales and service workforce. You can create a comprehensive plan for your field agents to follow, set up tasks and track progress, real-time monitor location and time tracking, send quotations, create quotations, and add comments.
Access Daily Meetings on Mobile with Kapture CRM:
Field Force Automation App is a mobile application that helps you stay connected with your team and work seamlessly on the go.
The app has been designed to support both iOS and Android platforms. All you need to do is download the app from Google Play or iTunes store and log in with your credentials. You can then access all information related to your daily meeting through the mobile app.
You can use Kapture Mobile CRM to:
– Attach files directly to email templates
– Check emails sent by your team members
– View your calendar
– Update your tasks and projects
– Create meeting requests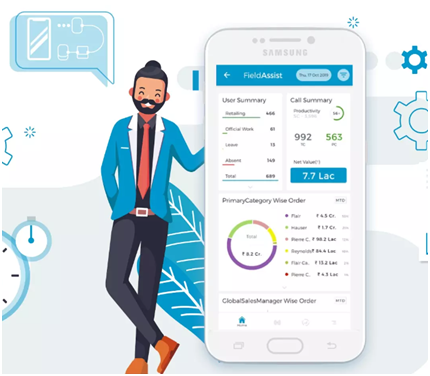 Track real time location of agents:
You will be able to track your agents' activities while they are out in the field. You will also be able to see their real-time location at any given time through the map provided by the app. This way, you can keep track of their progress while away from their desktops or laptops. You will also know when they are available for calls and other tasks related to their work schedule.
Perfect prospect-representative match
Our software can identify the right representative to call customers. It considers the time of day and week, as well as location and other factors, to determine how much time a representative has to devote to each customer. The system also monitors how long representatives spend on calls and which customers they call. It uses this information to determine if a particular representative should be assigned more calls from one territory or another.
Inventory management
It allows you to manage your inventory online to see what products are in stock at any given point in time. Representatives can access the inventory list on their mobile devices to quickly provide quotations for customers who request them over the phone or through email.
The inventory list is updated automatically whenever orders are placed, or products are sold, so it always reflects up-to-date information about your stock levels and pricing structure.
Field Force Automation Software in Kapture CRM:
Kapture CRM is a field force management solution that helps sales managers and field staff manage their customer information, track leads, contact customers, and more. It is ideal for businesses with a large customer base and needs to address these customers effectively.
The software comes with various features that make it easier for sales teams to manage their customer database. It also allows them to track all the activities of sales representatives while they are out on the field.
The software has a well-defined process for managing data, real-time servicing, order processing, tracking system, etc. It also enables users to customize it according to their requirements.
How Kapture CRM boosts field force:
Kapture CRM is a field force automation solution that helps businesses create and manage a centralized customer database. The system allows you to automate your field force so that your salespeople can focus on serving customers instead of collecting data.
Kapture CRM provides a centralized dashboard where you can view essential information about your customers. This includes their history with your company, current status, and upcoming appointments. You can also use Kapture CRM to track the progress of each sales call and see how each customer is doing. This will allow you to make better decisions about how many resources should be allocated for each contact.
Automated Field Teams Lead to High-Quality Customer Service
A significant benefit of Kapture CRM is that it allows you to streamline your operations by automating tasks such as scheduling meetings or sending follow-up emails. It also ensures that everyone has access to all pertinent information needed for servicing customers quickly and efficiently.
Why Kapture CRM?
Smart Service:
Kapture CRM is a customer relationship management system that helps you effectively manage your business relationships. It is more than just a contact manager or a Salesforce automation tool; it gives you a complete picture of your customer interactions and information.
Enhanced Results:
Field Force Automation is a powerful tool that helps you track important customer details like what customer has been contacted by whom, when, where, and how often. This is helpful for service people like telemarketers, salespeople, or any other field force personnel involved in selling products or services over the phone or face-to-face. They can easily keep track of their progress and improve their performance using this tool.
Optimized Workflow:
Kapture CRM allows you to create customized workflows depending on your business needs. You can define different processes, such as new lead status, lead follow-up, lead assignment, etc. They will be executed automatically once triggered by an event or action performed by someone in your team. This helps you maximize productivity while ensuring no step is missed out during the process flow, resulting in a better customer service experience for your clients and increased revenue generation.
Reliable Database:
The software uses a reliable database to store all customer information. Every time you add or update a new contact record, it will be kept in our secure cloud-based database. This means that you can always access your data whenever necessary, no matter where you are or what device you are using.
Takeaway
CRM software is a powerful tool designed to help businesses manage their customers, sales teams and inventory. With Kapture CRM, you can automate your sales team through the use of GPS tracking and custom markers that are automatically added to each call log.
It also offers automation tracking capabilities that allow you to see which contacts have been assigned to which agents and which agents have completed calls. This helps keep track of who has done what so that you know what tasks need to be completed next.
If you have a supervisor who needs access to information from their employees' calls, it allows them to view all records from each call directly from their own computer or mobile device. This allows them to monitor productivity levels while on the go so they don't miss any important information when they're away from the office!  
As it stands now, Kapture CRM seems to take the cake as one of the best solutions on the market, with the ability to perform many more functions than you would expect from traditional CRM software. Book a Demo now to explore more. 
Guest Post Service By www.guestarticlehouse.com
Total Views: 3487 ,