A Slam ball is one fitness equipment that can revolutionize your exercise, especially for home fitness routines. You can use a slam ball in the gym as your gym instructor directs; you can use it in the open field or indoor exercise as long as you know how to employ it to achieve desirable outcomes.
So, what exactly is a slam ball?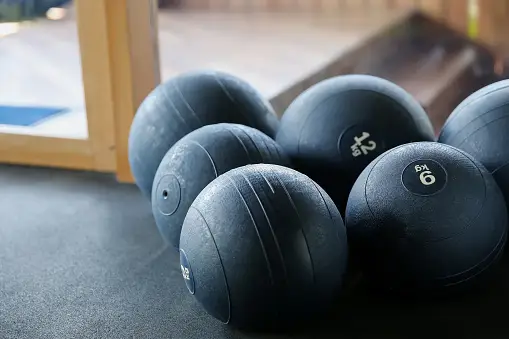 A slam ball is a loaded, rubber-coated ball used in various exercises to condition and define one's body muscles. Most people confuse slam balls with medicine balls, but they are different. Although very similar to med balls, slam balls have one significant difference—slightly thicker surfaces—making them well-suited for high-impact throwing exercises. Med balls, conversely, have relatively thinner rubber, leather, or plastic surfaces, making them impractical for intense fitness routines.
Here are some of the benefits you will get from slam ball workouts:
Increased Muscle Density
Most people maintain consistent gym sessions to optimize their muscle density. The more dense and explosive your muscles are, the more active and useful you can be in performing various tasks and even sports if you are an athlete. A good fitness routine should affect the body in a balanced way and not overconcentrate on particular areas. Your triceps, calf, core, biceps, back, arms, abdominals, and shoulders need to feel the impact of your exercise.
This is where slam balls prove very useful. Slam balls are great and beneficial for high-impact exercises to build bigger and stronger muscles. While choosing your slam balls, you must be specific with your targets. Take time and source the best slam balls for your specific targets and levels—beginner, intermediate, or pro.
They Strengthen Your Core
Another crucial benefit of slam ball exercise is that it strengthens your core. The core is the central part of your body and the powerhouse of the body. It includes your pelvis, lower back, hips, and stomach muscles (popularly known as abs). Core exercises train and boost the muscles in your core to work homogenously to support the entire body. Core exercise also enhances your balance and stability when handling hard tasks. Furthermore, core exercise can help tone your abs and burn excess belly fat.
Slam balls greatly enhance your core strength by intensifying your abs fitness. There is a huge difference when doing abs toning exercises like Russian Twists with and without a slam ball. You can employ slam balls of succeeding weights to achieve more advanced results and Michelangelesque perfection.
Increased Athletic Performance
Athletics demand strength and endurance. Using slam balls for workouts can help boost your athletic performance by helping you to develop a higher capacity to withstand the tasking demands of competitive sports. If you wonder why athletes play every weekend for a whole season without burnout, they have conditioned their bodies to handle intense pressure and activities through high-engaging fitness routines. With a slam ball in your hands, you can achieve that quickly.
Slam ball throws will strengthen your arms and enhance your balance, which is good for intense games such as hockey, football, rugby, volleyball, and basketball. You need speed, balance, endurance, and precision to excel in these games, and that is what slam ball exercises do to you.
Help With Uniform Body Explosiveness
One challenge that most people face is achieving a balance in their fitness results. Imbalanced and selectively impactful exercise routines lead to unbalanced results. Some people have a bigger upper body, broad shoulders, and bigger arms with an incongruous lower body. In most cases, these undesirable outcomes mean that some body muscles felt the impact of the fitness routine while others did not; hence the exercised muscles exploded at the expense of the ignored ones.
You don't want that, and slam balls can help you achieve uniform explosiveness from the sole to the forehead. A beneficial exercise routine has a well-balanced impact on the body with uniform and balanced muscle expansion. Appropriate use of the slam ball in several slam ball exercises like squat throws, plank, slam ball sit-ups, et cetera, will power up your entire frame.
Help Lower Body Fat
Slam ball workouts also help lower body fat. While some people try lowering their body fat through starvation, that could have other side effects. Maintaining healthy nutrition and maintaining high intense slam ball exercise will melt excise fat deposited in your body and help you achieve a summer body. Slam ball throws, squats, planks, single-leg deadlifts, and many more will leave you sweating and well-shaped after each fitness routine. The secret in the lower body fat pursuit is made easy by the high intensity added to the normal exercise by adding a slam ball.
Improved Heart Health
Your heart—the organ that keeps your body supplied with elements of life—is also safer with slam balls. With the intensity that slams balls add to your exercise routines, the heart is healthier and stronger as it pumps blood across the body to support even the extremities, like the limbs and the brain. High-intense exercise with slam balls helps the heart to get used to faster beats as it supplies the increased oxygen demand across the entire body. The vessels are kept active and open, ensuring they work best even when at rest.
Conclusion
Adding slam balls to your fitness routine is one of the best things you can do for yourself. Slam balls enhance the intensity of your fitness exercise, making you achieve explosive muscles, a stronger core, and improved cardiovascular health. Slam balls have the unique benefit of ensuring that your body feels the exercises homogenously to facilitate a uniform muscle build-up. You must find the best slam ball for your next workout to keep your body packed with power.
Total Views: 297 ,