HONOR CEO Zhao Ming revealed in a recent interview with a number of media that HONOR will build a global iconic technology brand and advance to mid-to-high-end. In the two months or so since Honor's independence, all the company's suppliers have fully resumed cooperation, including Qualcomm, Micron, MediaTek, Samsung, Microsoft, Intel, etc. In addition, online and offline channel partners have also completed cooperation signings. Today's HONOR has no constraints from the perspective of supply and production and can go all out to face the market.
The supply chain has fully recovered
The Honor brand was born in 2013. It was originally positioned as a trendy fashion brand in technology. It is the number one brand in the mobile phone industry for online sales, so it is called an Internet mobile phone brand. Previously, it belonged to the Huawei company system and chip procurement was also restricted by the United States.
On November 17, 2020, Honor officially emerged from Huawei. Two months later, on January 22, the first new product of Honor after independence came out. The V40 series and the Honor supply chain have also been fully restored.
HONOR's system covers a very powerful supply chain system, including procurement, production, and delivery. After the establishment of the Honor Company this time, Chairman Wan Biao managed the entire supply chain in the original Huawei system. He has very rich experience. "From the perspective of the company's future development, there are no major constraints and restrictions on supply, and it is a state of going all out to develop business."
HONOR will deepen its cooperation with suppliers in the future and integrate HONOR's ideas, needs, and solutions into the future chip planning and design of its partners. This is a more advanced embrace of the world's best industrial chain for HONOR. Some things needed by HONOR will be implanted into hardware solutions, and cooperation with suppliers does not stop at hardware or software procurement.
It is worth mentioning that, as the No. 1 brand of online mobile phones, will New Honor be able to match the previous online and offline sales capabilities in the future? In this regard, Zhao Ming revealed that in the past two months, a large number of channel and retail partners of Honor after its independence on November 17 have come up to express their strong willingness to cooperate with Honor.
In the future, they will be in the first, second, third, and Fourth-tier cities see a large number of HONOR systems and HONOR experience stores. As of 2020, the company's online and offline sales ratio has reached 4:6. In the future, it will better health and balance online and offline relationships, while strengthening online and offline channels.
Sufficient supply of V40 series
The V40 series of products have been developed before Honor was separated from Huawei. It was originally planned to be launched in November 2020. With the establishment of the new Honor, the post-V40 series is scheduled to be launched on January 18, 2021, and will be delayed for another 4 days. Released today.
After the launch of Huawei Mate40 in October last year, the market was extremely out of stock. Some voices pointed out that it is more difficult to grab a Huawei mobile phone than a train ticket. Therefore, this V40 series mobile phone developed from Huawei has attracted much attention whether the market supply is sufficient.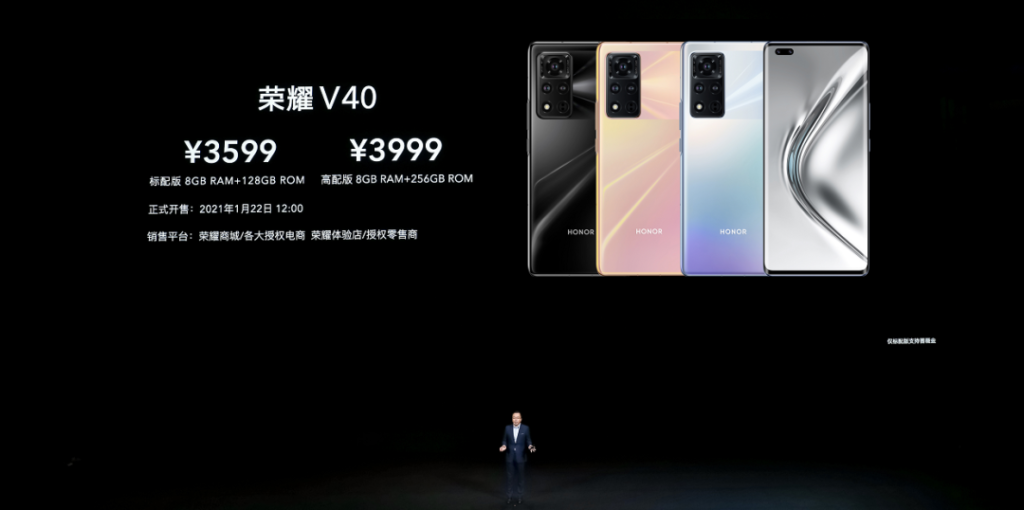 HONOR V40 was launched on 22th January
In this regard, Zhao Ming revealed that the Honor V40 was a product launched within two months after independence on November 17, and the current supply chain is still in the process of starting and climbing. Of course, the corresponding chips were also reserved in the past. The future sales volume is not a problem, mainly depends on the supply chain system and procurement colleagues.
Although the climb is very fast now, it is far from meeting the needs of market partners. In the current process of gradual recovery and the construction of many high-end experience stores, this kind of happy troubles for HONOR may always be accompanied in 2021.
Zhao Ming also said, "The supply chain team worked very hard. The first department to test after the new company became independent was the supply chain. The past five months have been extremely difficult for Honor, but the industry and consumers expect and support "Gave HONOR unparalleled courage. Today, HONOR opened the first press conference of the New Year, and it also gave a special meaning to HONOR after independence. "
The HONOR that has started a new journey has a new direction and goal. It will build a global iconic brand. In the future, the HONOR will undoubtedly go to the high-end and build a top flagship.
New HONOR in 2021
In addition, in terms of product strategy, Honor will continue the "1+8+N" strategy of the previous Huawei system, with mobile phones as the core, including "+8" tablet notebook computers, wearable devices, smart screens, TWS headsets, Router etc. At this conference, Honor released a number of products.
Simultaneously, including Honor V40, the new MagicBook 14/15 series and Honor watch GS Pro. In 2014, Honor had 20 million mobile phone users in China, and by 2020 there will be more than 200 million smart connected devices, including mobile phones, tablets, smart screens, and so on. Some analysts have judged that Honor may have a shipment level of close to 40 million in 2021. "
Guest Post Service By www.guestarticlehouse.com
Total Views: 930 ,