Christmas is coming soon. Did you get your own Christmas gift ideas for your family, your lover, and your friends? Today, I would like to suggest you one the best budget smartphone with 5000mAh battery capacity super charge features. The model of this smartphone is Honor 10X Lite which is just released last month.
Weakness of most smartphone
With development of technology these years, smartphones or mobile phone are have revolutionary breakthrough with very important features which we got used to in daily life. Indeed, the development of smartphones has exceeded our imagination. Today, no-longer, the smartphone is only the device for telecom, and also, the smartphone plays a role which almost replaced other electronic devices such as: PC, Laptop, and tablet.
In other word, the features of PC, laptop, and tablet will gradually appear on smartphone. Without any exaggeration, smartphone even has features over all other electronic devices' features. We got used to browse web page with smartphone instead of PC other electronic devices. And also, when we go out, the smartphone will help us navigate. In brief, smartphone has become a personal assistant.
However, smartphone needs to consume battery when working, and most of smartphone has low-battery capacity especially iPhone. It would be the most head-ache problem for us, therefore, low-battery anxiety has stealthy come to us.
Honor 10X Lite make you forget low-battery anxiety
5,000mAh battery capacity and 22.5W Super Charge feature will become a best cure for low-battery anxiety.
5,000mAh Battery Capacity
The Honor 10X Lite is a great candidate facing low-battery anxiety, thanks to a formidable 5,000mAh battery with 22.5W Super Charge feature, which work in tandem to ensure that you can get through your day with more than enough charge to spare.
2. Super charge features
Sometimes, we forgot to charge our smartphone especially when we go back home from work in the evening, and at next day, we suddenly remembered that the smartphone is not charged. Thanks to 22.5W (10V/2.25A) Super Charge technology, we found a solution to this issue.
3. Competitive products
If you wonder what "5,000mAh" battery capacity actually means, we can take a look at another competitive products in the same price range including: Samsung's Galaxy A51, which has just a 4,000mAh battery. Even the flagship Galaxy Note 20 Ultra and Note 20 models only come equipped with 4,500mAh and 4,300mAh respectively.
To fully charge Honor 10X Lite, it just takes around 95 minutes. Compared with Redmi Note 9 and OPPO A92, the first one will take around 148 minutes and the second one will take around 146 minutes getting fully charging. Even though the Galaxy A51's is one of best smartphones, its battery capacity is only 4,000mAh, and it will take 115 minutes for fully charging.
Other FAQ about Honor 10X Lite
To learn more about Honor 10X Lite, I would like to share some frequently-asked questions of Honor 10X Lite about photography performance, Google mobile services, and Price.
Does Honor 10X Lite support GMS?
Unfortunately, Honor 10X Lite is HMS set smartphone which does not support GMS. However, here is a solution for you to install GMS, via restoring operating system equipped with Google Framework which is the core of GMS, so that, a series of GMS Apps can work on your smartphone.
2. How about Honor 10X Lite photography performance?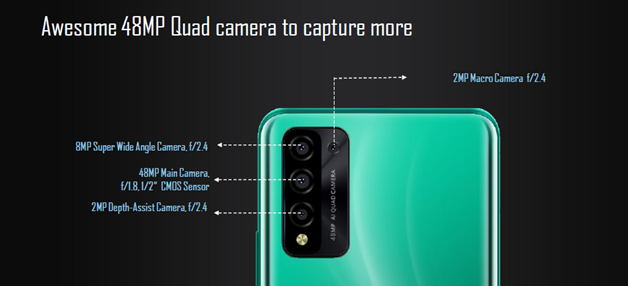 HONOR 10X Lite has quad main cameras and one selfie camera. It features 48 MP, f/1.8, 26mm wide camera, 8 MP, f/2.4, 120˚ ultra-wide camera, 2 MP, f/2.4, macro camera and 2 MP, f/2.4, depth camera, also 8 MP, f/2.0 wide selfie camera.
3. What about the price of Honor 10X Lite?
Even though Honor 10X Lite has a high battery capacity with a supercharging feature and a high-pixel camera, however, Honor 10X Lite only sells at around €200. It would not break the budget, how do you think?
Total Views: 898 ,