Summary: Google contacts is one of the most significant parts of establishing the connection amongst the organization. It plays a vital role whether you opt Gmail for personal or for professional use. In this article, you will explore the 2 reliable approaches that facilitate you to download contacts from Gmail without affecting contact details. Also, this article will introduce you to the best Gmail Backup Software that easily allows you to back up Contacts, Calendars, Emails, Photos, and other Google Drive data.
Nowadays, many people don't think about their Gmail contacts, as you can type a name on the search bar, and the email address shows up instantly. However, Google contacts play a vital role in keeping track of email ids, phone numbers, and physical addresses of your contacts. Hence, you don't want to leave them behind, whether you are switching to a new Google account or shifting to another email provider.
In this tutorial, you will learn about the extensive features of Google Contacts along with 2 different ways to download contacts from Gmail. The second method consists of authentic Gmail backup software that will also allow you to migrate Gmail to Office 365, Yahoo Mail, Thunderbird, AOL, iCloud, etc.
So without further delay, let's move on to the different functionalities of Google Contacts.
Why is Your Google Contacts Important?
Perhaps you are wondering why organizing your contacts is so important. The answer is simple, we all want to explore the maximum offerings of every Google's features. Hence, organizing Google Contacts will save you time and help in managing your contacts.
You can perform the following tasks in Google Contacts that enhance your experience with it.
Update Contact Information: Imagine that some of your contacts have recently changed their contact details. Using this feature, you can easily clean up or update your Contact's information.
Create Groups for better productivity: You can always create a group of the same collection of people so that you don't have to select them individually while sending the same email.
Getting the information within an organization: Assume that your organization uses Google Workspace to manage its business functionalities. In this scenario, you can look up the contact information of other employees working in your organization.
Import & Export: It is one of the most significant features that allows you to import a new contact into your Gmail account. At the same time, it offers the Export option to download contacts from Gmail.
After going through the functionalities of Google Contacts, let's move on to the 1st method to export contact list from Gmail to your local drive.
How to Back up Google Contacts Manually?
Well, Google has imposed the following limits that make it necessary to export all contacts from Gmail.
Maximum 25,000 contacts.
Total Storage Space – 20 MB.
Per Contact Size – 128KB.
Maximum Fields – 500.
Characters for each field – 1024.
Hence, one should have to download contacts from Gmail to optimize the storage space. You can perform the following process to export Google contacts without affecting the contact details.
Navigate the Gmail Contacts from the App dropdown list.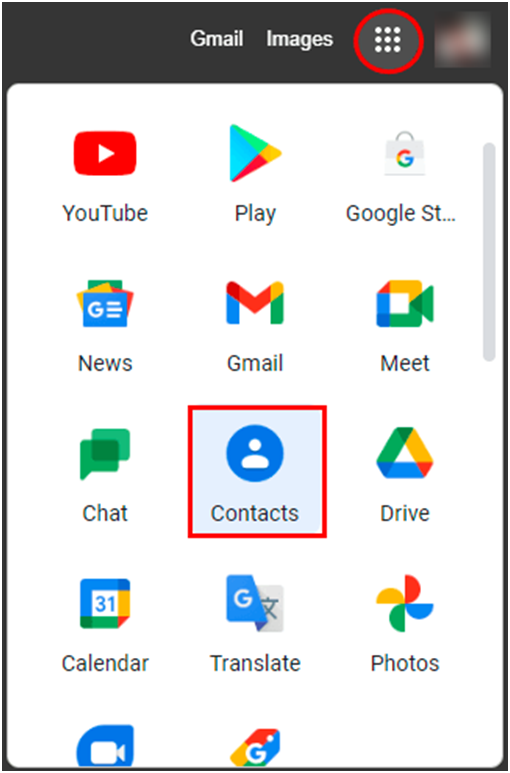 2. Now, select single or multiple contacts and click on the Export button to back up Google contacts.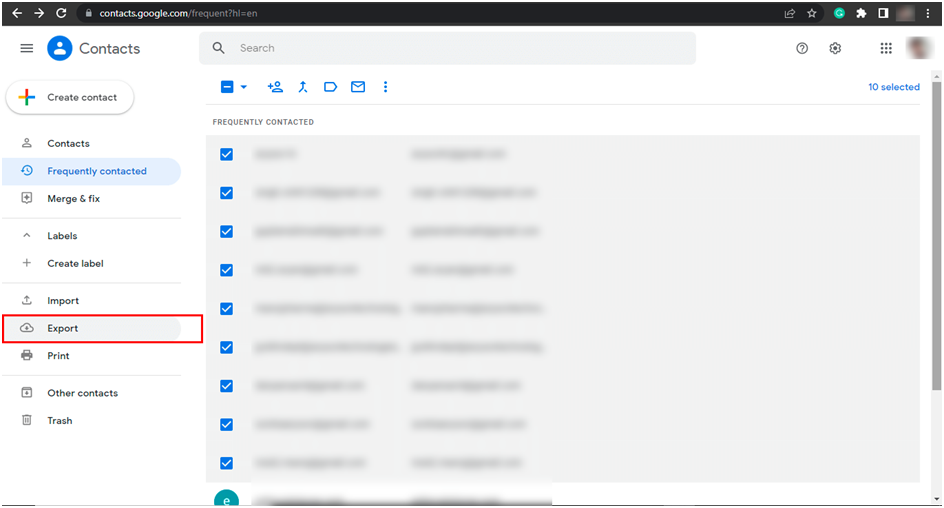 3. It shows a new wizard that allows you to export contacts as Google CSV, Outlook CSV, or vCard (for iOS Contacts).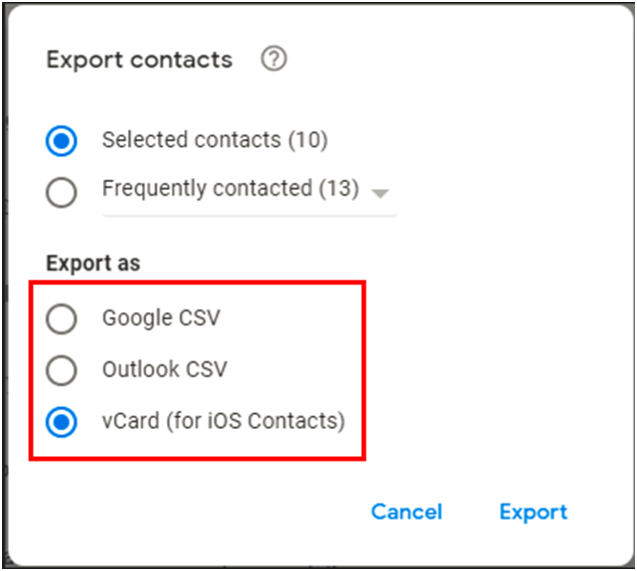 4. Select the resultant format and click on Export to download contacts from Gmail.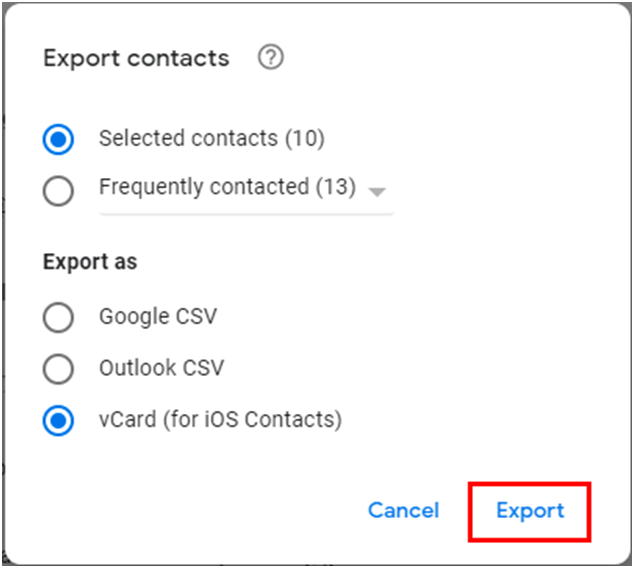 This method allows you to export all contacts from Gmail conveniently. It also helps in managing the storage space. However, you still need to delete unwanted contacts to manage the storage for new Google contacts.
Unfortunately, the above method only creates a single .vcf file that contains all your Google contacts. Therefore, experts recommend opting for the modern approach, which is a comprehensive backup solution for your Google account.
Automated Approach to Download Contacts From Gmail
This approach is a significant solution to download and back up all your Gmail account data, including Gmail, Contacts, Calendars, Drives, etc. It consists of secure and reliable Gmail Backup Software that helps users to export all contacts from Gmail in a separate VCF file. Apart from this, it is a comprehensive utility that allows users to back up their entire Gmail account data conveniently.
Additional Features of Gmail Backup Software
You can easily back up your Gmail emails in PST, PDF, MBOX, CSV, EML, etc.
It also allows you to migrate Gmail to Office 365, Yahoo Mail, Thunderbird, AOL, iCloud, and other popular email clients.
Also, it offers you to download contacts from Gmail along with calendars, photos, drives, etc.
Its Mail Filter option allows you to select the specific file folder within a particular date range for backup or migration purposes.
Additionally, it offers the Remove Duplicate Emails based on To, From, Subject, Bcc, and Body. Using this feature, you can prevent multiple migrations of the same email.
Conclusion
After going through this article, you can easily download contacts from Gmail using any of the above-discussed methods. Additionally, it explains the importance of Google contacts, which makes it necessary to export all contacts from Gmail. In this respect, Gmail Backup Software is one of the most efficient solutions to back up the entire Gmail data, including contacts, calendars, email, drive, etc. You can choose any of the above-discussed approaches according to your requirements
Total Views: 901 ,